K-pop Bands!
What is k-pop?
K-pop is short for Korean pop or Korean popular music, hence originating in Korea or South Korea to be specific. K-pop is basically a musical genre that consists of other genres such as electronic, hip-hop, rock and R&B music. There are a lot of k-pop groups but there are only about 30 groups that are well known. Let's talk about the different groups there are.
TWICE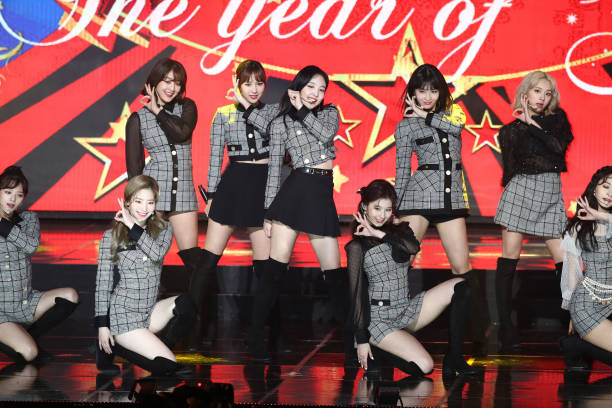 Twice is a nine girl group that came from a company called JYP entertainment. The members of Twice are Mina, Tzuyu, Momo, Sana, Jihyo, Nayeon, Dahyun, Chaeyoung, Jeongyeon. On October 7, JYP launched the group's official website and announced on social media that the group would debut with the mini-album 'The story begins' with ''Like OOH-AHH" as the title track. On Gregorian calendar month twenty, the album and also the song's music video were free on-line on Gregorian calendar month twenty and thru the  "V LIVE" App. The group held their debut showcase the same day, where they performed "Like OOH-AHH" along with dance tracks "Must Be Crazy" and "Do It Again". The title track's music video hit 50 million views within five months of their debut and became the most-viewed debut music video for any K-pop group, later becoming one of the primary K-pop, cluster to own their debut music video pass one hundred million views. Twice calls their fans Once because if fans love the group more than once, they will repay them with "twice" their love!
 PENTAGON
Pentagon is a nine boy group that is from a company called Cube Entertainment. The members from Pentagon are Wooseok, Yang-Hongseok, Hui, Jinho, Adachi Yuto, Yan An, Yeo One, Kino, Shinwon. They debuted with their first mini-album Pentagon on October 10, 2016. They created their Japanese debut on March twenty-nine, 2017 with the mini-album Gorilla. The album consists of Japanese versions of songs from their first two mini albums as well as two original tracks. Cube announced on September 30 that PENTAGON will officially debut on October 10 with their first self-titled mini-album. It was also revealed the group will be debuting with 10 members including the eliminated members. The groupreleased their second mini-album Five Senses on December 7 with "Can You Feel It" because of the title track. On March 7, the group announced the fan club name as "Universe".PENTAGON released their third mini-album Ceremony on June 12 with "Critical Beauty" as the title track. The album also includes their pre-release single "Beautiful" which was produced by Jung Il Hoon of BTOB.
STRAY KIDS
STRAY KIDS is a nine boy group that came from a company called JYP entertainment like Twice. The members from STRAY KIDS are Felix, Hyunjin, Han, Changbin, Bang Chan, Lee Know, I.N, Seungmin, Woojin. Stray Kids debuted on March 25, 2018, with ''I Am Not'' and its title track "District 9". The cluster proclaimed its followers' name, STAY, on August 1st. That was a few days before their first comeback on August 6th with the title track "My Pace" and the mini-album I Am Who. Finally, they released I Am You on October 22nd. The three mini-albums, the I Am series, were all released in less than a year and are all part of the same narrative cycle revolving around the theme of identity and self-discovery. MIROH was released on the first anniversary of the group's debut, March 25th, 2019. "MIROH" may be a word Stray youngsters created, 'miro' means 'maze' in Korean, and the H at the end of MIROH symbolizes either heaven or hell, meaning there are two possible places it can lead to. The album tackles the topic of living in an exceedingly new world that may be harsh in Stray youngsters case, this new world is both celebrity and adulthood. They came back on June 19th with Clé 2: Yellow Wood. The "Clé" and "I Am" series were then connected. For example, the city Stray Kids is looking at at the end of "I Am You" 's MV is MIROH, and the elevator in Clé 2: Yellow Wood's trailer is a callback to "Hellevator", their first single which was released pre-debut. 
BLACKPINK
BLACKPINK is a four-girl group that came from YG Entertainment. The members of BLACKPINK are Lisa, Jennie, Jisoo, and Rosé. They debuted on August 8, 2016, with their digital single album "Square One." The first title track, "Whistle," was a "minimal hip-hop track," and was produced by Teddy Park and Future Bounce and written by Teddy Park and Bekuh BOOM. According to the website seventeen (https://www.seventeen.com/celebrity/music/a27206835/blackpink-facts/) "The meaning of Black Pink aims to contradict the common perception of the color pink. Pink is usually to portray cuteness, but Black Pink actually means to say that 'Pretty isn't everything.' It also symbolizes that they are a team that encompasses not only beauty, however additionally nice talent." On Gregorian calendar month thirteen, it absolutely was formally proclaimed that the debut album of the cluster would be associate degree extended play referred to as BLACKPINK and would be released on August 30. The PV of "Boombayah" was also released. On the same day, the details from the album were revealed, including the tracklist. It would have two versions: CD+DVD, containing the Japanese and Korean-language versions of the group's singles plus five music videos; and the only CD, containing just the Japanese-language songs. A day after, the short version PV of 'Whistle" was released.
BTS
BTS is a seven-member South Korean boy band. BTS is from a company called Bighit entertainment. Bang Si Hyuk is the person who formed BTS which includes the members who are RM (Kim Namjoon) who is a rapper and the leader of this group, Jin (Kim Seokjin) who is a singer/vocalist , Suga (Min Yoongi) who is a rapper, J-hope (Jung Hoseok) who is a rapper and a choreographer, Park Jimin, who is also a choreographer but also a singer/vocalist, V (Kim Taehyung) who is a singer, and last but not least is Jeon Jungkook who is a singer and a choreographer but he is also the youngest who can do almost everything. BTS debuted on June 13, 2013, with the album "2 COOL 4 SKOOL." The song they debuted with was the song called "No More Dream." When they released the album they debuted with, they also released another album called "Dark&Wild." BTS doesn't sing what the managers or anyone tell them to sing, they actually are the ones who write their own lyrics and they all come together to see what lyrics to use but they all get something from each member to make a song. The songs they sing are based on real life problems and the things that they are going through that other people might go through. It can also teach people how to love themselves and how they can overcome the challenges people have faced. One of the members in BTS who is RM gave a speech at the United Nations in all english which is surprising to everyone since BTS is a Korean group. The fandom name of BTS is called "ARMY" because it means that the fans will always be with BTS and will protect them like what the actual armies do to us.
SOURCES
https://kprofiles.com/kpop-official-fanclub-names-fan-colors/
https://www.kpopmap.com/13-kpop-fandom-names-their-meanings/
https://www.gettyimages.com/photos/k-pop?sort=mostpopular&mediatype=photography&phrase=k%20pop
https://www.nolala.com/en/artist-in-spotlight/what-is-the-meaning-of-the-songs-of-the-south-korean-k-pop-group-actually-about/
https://www.hellokpop.com/news/bangtan-boys-reveals-their-official-fanclub-name/
About the Writer
Abigail Poblano, Reporter, 7th grade
Hello! My name is Abigail Poblano and I'm a 7th grader. I have been at O'Donovan for 2 years now. This is my first year in Journalism and I'm very...